Hey guys!
Long time no post, I know!
I hope everyone is having wonderful holidays and I am very excited to begin posting frequently now since I will be A LOT less busy!
On that note, today I wanted to share my favorite spring/summer 2012 trends so that you know what to look for in the months to come. Remember: You do not have to follow trends to the T. I personally just use them for inspiration and incorporate the ones that I like into my own personal style. Not every trend is going to be right for you and you will not like every trend that pops up. So keep that in mind and remember to stay true to what YOU like to wear!
That being said, here are my faves!
Candy Colors
This was huge on the runways as far as both fashion and beauty goes! Some models even sported magenta hair. Pastels are HUGE and all over the place for Spring fashion. Deffinitely check out the beautiful lilac and peach colored items!
1920's
Think Mad Men! The 20's are what's in this season and I absolutely love it. Seen on runways like Marc Jacobs. Think fringe, flapper, beads, curve-hugging materials, silk, pajama dressing, feathers, and sequins.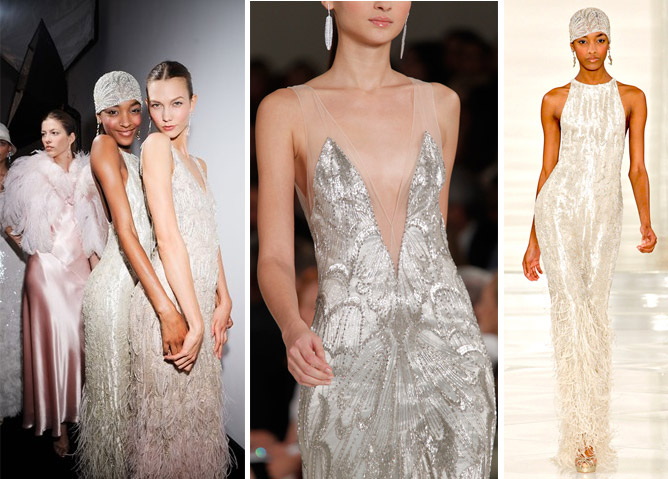 Bold Prints, Tribal Prints, Animal Prints and Bold Floral
This is such a fun trend that you can do so much with! There are so many crazy textures and fun bold prints seen on the runways. Eye catching floral, animal, and tribal prints were everywhere. Just remember to keep the rest of your outfit low key so you dont have too much print going on!
Oranges, Whites and Bright Neon Colors
Color blocking is still really big and was deffinitely included in conjunction with these crazy brights for Spring/Summer 2012. Different degrees of orange were seen everywhere and white was deffinitely a popular pick as well. Neon colors make any outfit pop and they are deffinitely a lot of fun when mixed together.
Leather
Skirts, shorts, and vests, oh my! Leather is making a landing into Spring and Summer fashion! Leather makes a bold statement during the season and looked very grungy and edgy against normal summer styles. Challenge yourself and incorporate this into your S/S 2012 wardrobe! I'm dying to find one of those cute leather-looking dresses.
Metallic is still huge as well by the way! I'm loving it. It will also be seen EVERYWHERE this coming season. Check out my post (my very first post here actually!) completely dedicated to it at http://favemagazine.blogspot.com/2011/10/big-heavy-metal-welcome.html*
I hope you guys enjoying this comprehensive guide to my favorite spring/summer 2012 trends!
Have fun with it and let me know what you think.
P.S. I'm working on a very exciting new backround for the blog! Get ready cause it's going to be just as exciting as the blog itself is!!! Keep your eyes peeled. It's coming soon.
xoxoxo
- Gen