With so many campaigns and adverts out in the fashion world, it may be hard for a male model to stand out against their competition. There are a few faces that I have seen again and again in 2014 , so I have decided to search a little bit deeper into these occurring faces to share with you.
Edward Wilding
Edward wilding, currently ranking in the top 50 male models on models.com has sliced into the fashion-sphere with his killer cheekbones and handsome looks. The 6 foot 3 model is signed to multiple model agencies with his mother agency being from his home town of Manchester, Boss models UK. From Versace campaigns posing alongside Kate moss to Parke and Ronan runways, he is fast becoming popular among designers and within the fashion industry. With an increasing instagram following , currently at 17k, he shows the world his cheeky and comical aside away from the catwalks and sharp suits.
The photo editorial entitled " Narcissus" for Lab-A4 magazine , ( photographed by Greg Swales and edited by Ryan Davis), showcases a devilishly handsome Edward expressing some serious fetish vibes that you do not want to miss. The photographs fully convey the tale of "Narcissus" with a high fashion and dark urban edge.
This 22 year old is definitely one to keep your eyes on.
Edward wilding photo sourced from www.ftape.com
Edward for Lab-A4 magazine. photographed by Greg Swales. editorial titled " Narcissus".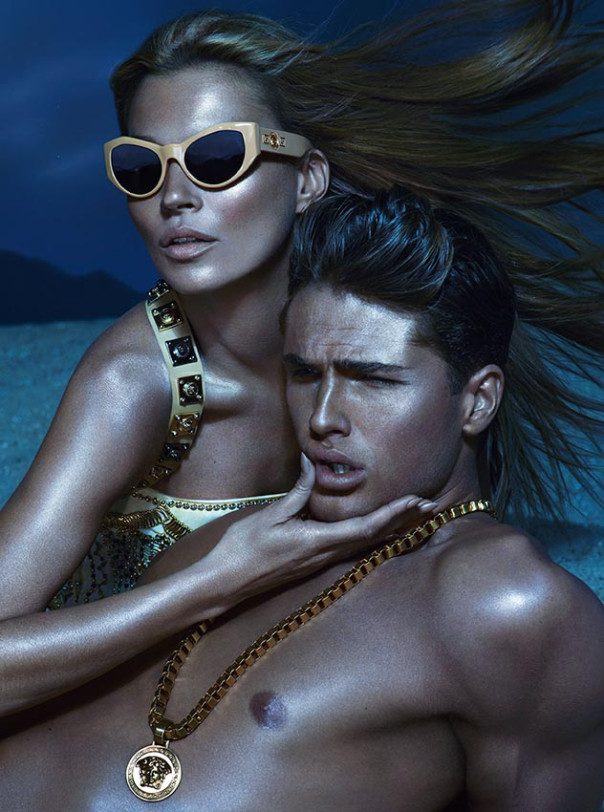 Edward Wilding and Kate moss campaign for Versace jewellery and eye wear. Photo sourced from www.Thefashionisto.com.
Luke Powell
Signed to models 1 as a new face, Luke has already walked for hunter and exclusively for Burberry. The 21 year old sprung into 2014 by landing a campaign with Topman, with his face smashing onto the shop fronts of Topshop stores in beautiful black and white photography. This blue eyed boy from Rotherham has landed and has left me anticipating his next campaign. His instagram account not only showcases his modelling skills , but that that he's also a killer at taking a selfie!
Photo sourced from thefashionspot.com
Luke modelling for Topman, Photo sourced from models1.com
Daan van der Deen
At the age of 19 Daan has not already walked for the Versace 14 show but was the shows opening model. With a heavy brow and plump pouty lips it's hard not to look at his features and become envious of his striking masculine look. Cara D may be the queen of the eyebrow for woman's fashion but will Daan be the king of the eyebrow in the male model world ? I can see Daan becoming popular in 2014, definitely one to keep your eye on.
Walking for Versace 14
Photo sourced from agency " IamELK". www.i-am-elk.nl
Photo sourced from Ftape.com