In society it is often emphasized in all sorts of media what is stereotyped as an attractive male or attractive female, and fashion is no exception to these stereotypes. As times changes , fashion also evolves and has more campaigns and catwalks than ever blurring the lines of masculine and femininity by using androgynous models. This gender switch in fashion is eye opening to those who perhaps feel more comfortable wearing clothes targeted towards the opposite gender and reassuring to those that perhaps don't feel they relate to a specific gender.
Marco Morante, the head of the fashion house 'Marco Marco' , showcased his spring and summer collection modelled entirely by half naked hunks, sassy drag queens and male models in high heels that strutted their stuff setting a colourful and energetic performance. Perhaps I should reconsider a pair of Christian Louboutins... .
Below are some of the honourable mentions to models who are breaking borders showing beauty comes in more than just male and female stereotypes.
Andrej Pejic
Andrej had emigrated to Melbourne , Australia in 2000 where he was scouted whilst working in McDonalds at just the tender age of 16. Andrej , a 6 foot 2 blonde bombshell who's beauty not only inspires designers but is admired by both men and woman, by being voted as 98th in FHM sexiest woman 2011. His feminine looks have landed him multiple woman's campaigns including push-up bra advertisements. He walks for both male and female fashion shows though is mostly recognised for his beauty that leans towards the more feminine side. Andrej Pejic is admirably known for walking down the catwalk for Jean Paul Gaultier in a brides dress, looking elegant top to toe.
Bridal gown for Jean Paul gaultier
Elliott Sailors
Elliott , a previous beauty-pageant contestant was initially signed to ford models in the woman's division. After the haircut to chop off her long locks, her strong jaw line and sharp cheek bones were revealed making her quite the handsome lady. Though Elliott is working as a face for menswear, this isn't to be conceived that she is transitioning into a man, in fact she's a happy wife to Adam Santos-Coy. It's in fact shocking to hear that Mrs. sailors has received prejudice behaviours from people mistaking her and her partner as a gay couple. Unsettling as that is to hear, I admire her confidence to have the switch into men's wear and pull of that edgy masculine look.
Casey Legler
Casey , a former Olympic swimmer, is the first woman to be signed to work in the mens modelling division. With a similar look and hair cut to Elliott sailors , you could imagine seeing them alongside each other in mens campaigns. Signed to ford models her campaigns include All saints, Diesel reboot and Iris van Herpen. Her look that is set to change boundaries in gender roles of fashion was recognised and featured in vogue 2013.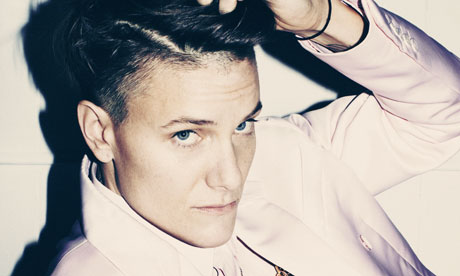 I find it aspiring to see models being used for multitude of male and female campaigns and I hope to see this versatility more in the future.
All the best.
Photographs used are not my own.