Hi guys!
Something that I have been noticing around alot lately is high-waisted shorts and pan ts. I know what you're thinking: "Gen, it's Fall...I don't want to wear shorts! Are you crazy?!" I promise you I'm not...most days anyways. You can deffinitely pull off shorts even in the Fall and still make them look classy, chic, and warm. Shorts don't have to just be something you throw on during the summer months because you are too lazy to wear anything else out. I have really been loving high-waisted shorts and the put-together effect that they give an outfit. High-waisted pants can look totally fun too if styled right!
Adds a nice little touch of chic doesn't it?
These shorts really shape your frame and enhance it. Any shape or size can make this work as long as they keep their body type in consideration. These kind of shorts can also help make that perfect day to night transition.
Tights and leggings are a perfect way to create layers and keep yourself warm while pulling off the shorts. It is perfect for any occassion and honestly looks great together.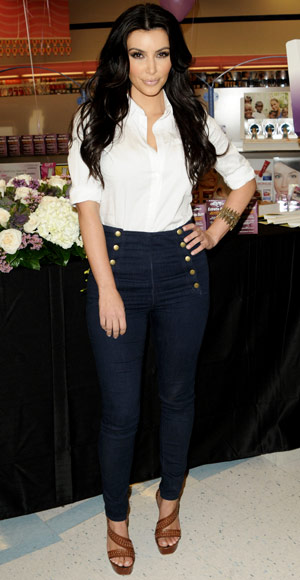 High-waisted pants/jeans can also play up a casual outfit to look a little more sophisticated. Try it out in your daily life! If styled right, I promise they won't look like mom jeans! Kim Kardashian pulls this look off frequently and it makes her look a little more fabulous in the rather plain brown sandals and white shirt pictured above.
So, what do you think? Will you be brave and try out this look? It's a risk that's for sure but deffinitely worth it in the end!
Lots of high-waisted love,
xo
- Gen